PAST BAC EVENTS & NEWS in the DIOCESE of HURON















Marriage of Brian Pearce - Past President of the BAC Diocesan Executive Council
The Diocesan Executive Council was absolutely delighted when Brian informed us
that he would be marrying a childhood sweetheart.
We extend our best wishes to him and Leslie Gay
as they are wed on July 11th, 2015
at Christ Church in Listowel.















Death of Dave Christensen - long time BAC member at St. Paul's, Point Edward
It is with great sadness that we learned of the news of Dave's death. His obituary is below. Dave was with us for the Conference in Ingersoll in April but had to leave early. For many years he and Bill Baldock alternated being President of the Lambton Deanery BAC so the executive got to know him very well. He will be sorely missed. Our thoughts and prayers are with Jan and his family.
CHRISTENSEN, Dave "Stretch" - Suddenly, from complications of heart disease on Sunday, June 21, 2015, at University Hospital in London, Dave "Stretch" Christensen passed away at the age of 68. Beloved husband of Jan Christensen for 44 years. Loving father of Ed (Holly) Christensen, Kevin (Heidi) Christensen and Jennifer (Murray) Woolvett. Beloved son of Sadie and Ken Christensen. Cherished brother of Bertha (Mervyn) Grierson, Marguerite (Bob) Stefaniuk, and Jeanette (Ross) Purchase. Treasured grandfather of five grandchildren. Lovingly remembered by 14 nieces and nephews. Dave was born and raised in Winnipeg, graduating from the University of Winnipeg in 1974. He graduated from Toronto Teachers College in 1970. "Stretch" played basketball throughout High School and University, and was an avid athlete throughout his life, playing baseball, hockey (goalie) and golf. Upon completing his schooling, Dave taught for 40 years including design and technology at Colborne Street School in Corunna. He loved being outdoors, especially fishing, whether it be at the cottage or on his yearly fishing trip with the guys. Dave was a long term resident of Point Edward. He volunteered with many organizations including United Way, ETFO and BAC, and was twice recognized as volunteer of the year by United Way. Dave was very active within St. Paul's Anglican Church. He was happiest being with family, whether at home, travelling, or at the cottage. Cremation has taken place. A memorial service will be held at St. Paul's Anglican Church, 210 Michigan Ave, Point Edward, on Monday, June 29, 2015, at 3:00 p.m. After the service, there will be a celebration of Dave's life at the church in a fashion that Dave would be proud of. The family asks that no black or dark clothes be worn; instead, bright colours and hockey or sports jerseys/sweaters are encouraged. As per family request, in lieu of flowers, bereavement cards and donations may be made to the Multi-Organ Transplant Program at London Health Sciences Centre (LHSC). Cheques only at the funeral home please. Arrangements entrusted to SMITH FUNERAL HOME , 1576 London Line, Sarnia. Memories and condolences may be sent online at www.smithfuneralhome.ca129
46














Work Day at Huron Church Camp
June 20th, 2015
click on link to see pictures - Huron Church Camp - work day fun















Presentation of New Charter to
St. Augustine of Canterbury - map it
5145 Wyandotte St. E., Windsor
Sunday, January 19th, 2014
10:00 a.m. service














<![if !vml]>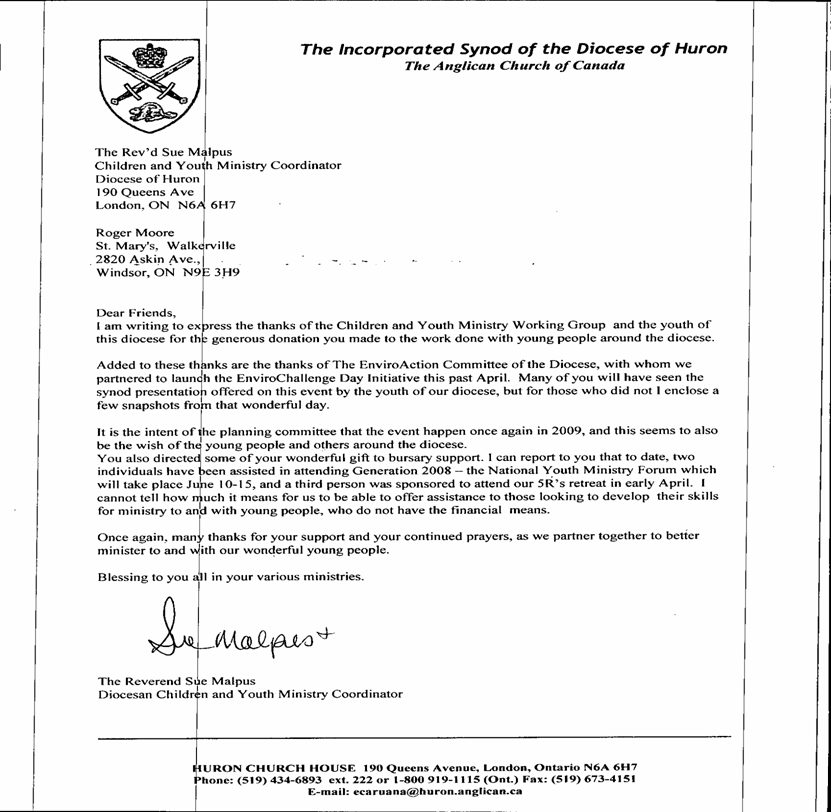 <![endif]>













A WARM WELCOME to the BAC at SOUTHERN TRINITY PARISH!
We have a new chapter in Essex Deanery! On Sunday, April 6th, 2008, Roger Moore, Diocesan BAC President presented a charter to the BAC at Southern Trinity Parish. The parish is composed of Christ Church, Colchester, St. Albans, Maiden and St. Andrew's, Harrow. We welcome this new chapter into the diocese and hope that we will meet some new members at the conference later this month.

The contact person for the chapter is Bill White and he can be reached at [email protected]













A very successful conference is over.
Congratulations and thanks to the Essex Deanery Conference Committee.

<![if !vml]>

<![endif]>
<![if !vml]>

<![endif]>
<![if !vml]>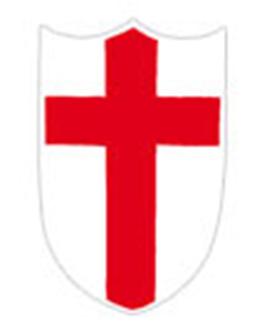 <![endif]>
April 18-20, 2008
Windsor, Ontario
Guest Speaker: The Reverend Chuck Congram will provide us with a presentation on "LIFE AS A CHRISTIAN"
Banquet Speaker: The Right Reverend Jack Peck
Click here to go to BAC Conference 2008
agenda & registration












REST IN PEACE
CALDWELL, Alan James - At Grey Bruce Health Services, Owen Sound on Monday, December 3, 2007. Alan Caldwell of Owen Sound at the age of 59. Sadly missed by his children; Jeff, Matthew and his wife Jocelyn, Amy and her husband David De Melo and their mother Mary Caldwell (nee Kyte). Also missed by his nieces, nephews, cousins, aunts and Mary's family. Predeceased by his parents Ada and James Caldwell, his sister and her husband Catherine and Bob Reekie. Alan was a gifted music teacher and spent most of his career at Hillcrest Elementary and Sydenham Community Schools. Alan was involved with many community and charitable organizations including the Kiwanis Music Festival and the Brotherhood of Anglican Churchmen. Friends are invited to the TANNAHILL FUNERAL HOME 519- 376-3710 for visiting on Thursday, December 6, 2007 from 2-4 and 7-9 p.m. The funeral service will be conducted at St. George's Anglican Church on Friday, December 7, 2007 at 1 o'clock with Canon Christopher Pratt and Rev. Claire Miller officiating. If desired, memorial donations may be made to Sleeping Children Around the World or St. George's Anglican Church. Members of St. George's Lodge #88, A.F.& A.M. will hold a memorial service at the funeral home on Thursday evening at 6:45 p.m. "Let the music play on" 10924464












<![if !vml]>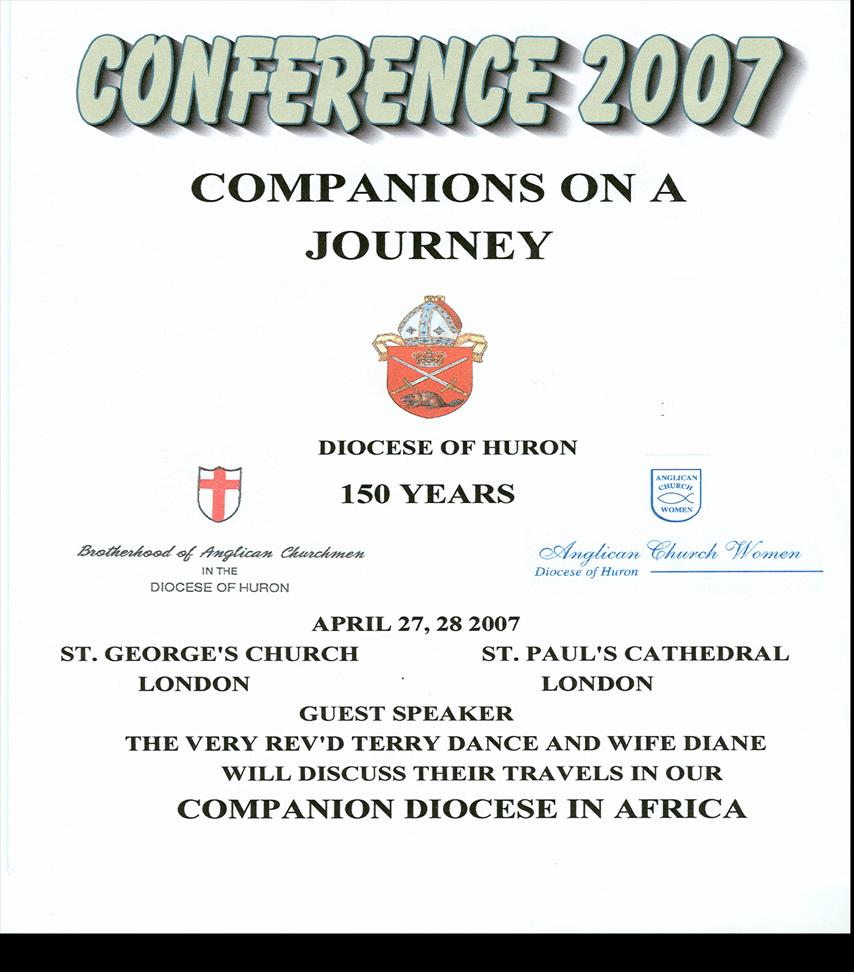 <![endif]>












REST IN PEACE
CHAMBERS - At the London Health Sciences Centre - Victoria Campus on Saturday July 15, 2006. Rollin Henry Chambers of Woodstock in his 84th year. Beloved husband of the late Anna Amelia (nee Frizelle) Chambers (2005). Dear father of Gerald Chambers and his wife Evelyn, Brian Chambers, Stephen Chambers and his wife Sherry all of London and father-in-law of Jackie Chambers of Sweaburg. Loved grandfather of thirteen grandchildren and four great grandchildren. Dear brother of Earl and his wife Edith of Woodstock and Frank and his wife Fern of Norwich. Predeceased by his son Michael Chambers and by his sister Olive Mitchell. Rolly was a veteran of World War II, a longtime member of All Saints Anglican Church, Woodstock where he was a past member of the Brotherhood of Anglican Churchmen. He was also a former President of the Woodstock Horticultural Society and Past President of the Woodstock Square Dancing Club. Friends may call at the R.D. Longworth Funeral Home, 845 Devonshire Ave., Woodstock, 519-539-0004 on Tuesday July 18, 2006 from 2-4 and 7-9 pm. A funeral service will be held at Old St. Paul's Anglican Church, Woodstock on Wednesday at 1:30 pm with Rev. Bruce Genge officiating. Interment in the Anglican Cemetery. Contributions to the Canadian Cancer Society would be appreciated. A Brotherhood of Anglican Churchmen service will be held at the funeral home on Tuesday evening at 6:30 pm. Online condolences at www.longworthfuneralhome.com

The family wish to thank the dedicated staff at Trafalgar Terrace, London and the caring doctors and nurses of the London Regional Cancer Centre.












GEORGE SARACUSE, PAST PRESIDENT of the DIOCESAN BAC
REST IN PEACE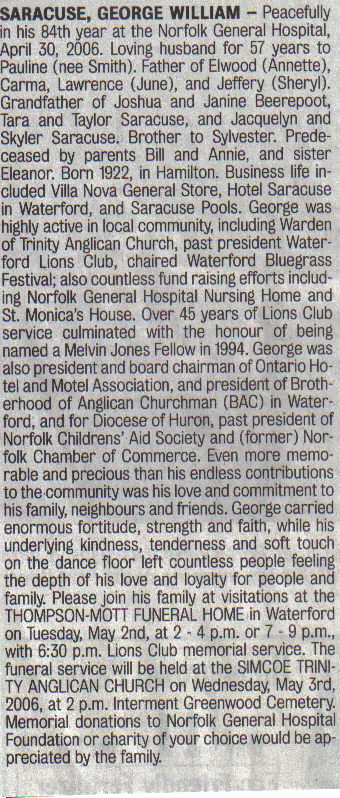 <![if !vml]>

<![endif]>
"SPIRITUALITY IN THE WORKPLACE"

The BAC of the DEANERY of the SAUGEENS
Invites you to our
CONFERENCE 2006
APRIL 21, 22 & 23 , 2006
<![if !vml]>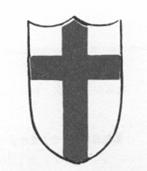 <![endif]> <![if !vml]>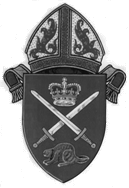 <![endif]>
AT
ST. GEORGE'S, OWEN SOUND – Friday night
CHRIST CHURCH, MEAFORD – Saturday – all day
ST. THOMAS, OWEN SOUND – Sunday morning
NOTICE OF MEETING – BAC Annual Meeting
at Christ Church at 2:00 p.m. on Saturday, April 22nd












LAMBTON DEANERY - FALL BANQUET
Friday, November 4th, 2005 at St. Paul's Church, Point Edward

Lambton Deanery held its BAC Fall Deanery Banquet in November. Dr. John Bowen Director of Evangelism at Wycliffe College University of Toronto was our guest speaker. The banquet was held a St. Paul's Church Point Edward on Friday November 4. Communion was at 6.00 p.m. and the Banquet was at 7.00 p.m.
On Saturday from 9.00 a.m. to 4.00 p.m. Dr. Bowen conducted a seminar "The Magnetic Church" (Attracting New People and Keeping Them.) This Seminar was held in Grace United Church.












With sorrow, the BAC has to announce the death of another long time member. John Ellis was President of the Diocesan BAC in 1972 & 1973. His funeral notice, from the Brantford Expositor, is reprinted below.
ELLIS John Albert - The family announces with sorrow the death of John Albert Ellis at Simcoe, Ontario, on Monday, May 9, 2005 in his 87th year; beloved husband of Gwendoline; dear father of Peter Ellis and his wife Mary; dear grandfather of John Michael, Robert Edward and Krista Mary of Sault Ste. Marie, Ontario; twin brother of William of Detroit and survived by six nieces and nephews; predeceased by his parents Edwin Peter and Lucy Ellis and a brother Peter and sisters Jessie and Frances. John retired as postmaster of Simcoe in 1978 and was a former employee of the Brantford Post Office. He served six years overseas with the 54th Battery of Brantford. He was a faithful member of Trinity Anglican Church serving as lay reader, Synod Council and as a Diocesan President of the B. A. C. He was a charter member of the St. Leonard's Society of Brantford and was active in the formation of the St. Monica House for unwed mothers in Waterloo. John was also a member of Norfolk Lodge #10, A. F. & A. M., Mocha Temple, the Norfolk Shrine Club, Branch #79, Royal Canadian Legion, Rotary Club of Simcoe and the Simcoe Cardiac Club. He was the honourary Chaplain of A.N. & A. F., Unit 255, Simcoe. Friends are requested to wear a happy smile and join the family in thanking Almighty God for a life well lived. Mr. Ellis is resting at the FERRIS FUNERAL HOME, 214 Norfolk Street, S., Simcoe, on Friday from 2 to 4 and 7 to 9 p. m. Funeral Service will be held at Trinity Anglican Church, Simcoe on Saturday, May 14 at 11 a. m. Rev. Gordon Moir and Rev. Bryan Robertson officiating. Cremation. Memorial donations to the Simcoe and District Humane Society would be appreciated. Legion memorial service Friday at 6:30 p. m. Rotary Club memorial service, Friday at 6:45 p. m.












MIKE CHAMBERS, PRESIDENT of the DIOCESAN BAC - REST IN PEACE
On May 7th, 2005, Mike died suddenly at his home in Woodstock. All BAC brotherhood mourn his passing and offer our thoughts and prayers to his family.

Following is a message from Canon Sue Tite in the Bishops' Office.
Your prayers are requested for the family and all who mourn the loss of Mike Chambers, President of the Diocesan BAC. Mike is survived by his wife Jackie, children: Patrick Chambers and his partner Kristin Giles, Shawn Chambers all of Sweaburg and Christine Chambers and friend Casey Harris of London. Son of Rollin and Anna Chambers of Woodstock, brother of Gerald Chambers and his wife Evelyn, Brian Chambers, and Stephen Chambers and his wife Sherry also of London. He is also survived by his grandchildren and nieces and nephews.
A large number of BAC members and executive attended the memorial service for Mike on Tuesday evening or his funeral on Wednesday. Remembrances were given by The Right Reverend Bruce Howe, Bishop of Huron and The Rev'd Megan Collings-Moore. Diocesan Chaplain, The Rev'd Canon Robin Lyons, assisted with the funeral eucharist. An truly impressive number of Past Presidents of the Diocesan BAC honoured Mike with their attendance:
Frank Chambers 1961 & 62 Mike's Uncle
Pete Emmons 1970 & 71
David Schwass 1978 & 79
Joe Woodall 1982
Dennis Cluley 1983 & 84
Walt Cook 1985 & 86
Trevor Smith 1987, 88 & 89
Keith Miller 1993 & 94
Paul White 1998 & 99












Diocesan Conference 2005 - hosted by Essex Deanery
Friday April 22 thru Sun. April 24 2005 - Windsor
The 55th Annual Diocesan Conference of the Brotherhood of Anglican Churchmen was held in Windsor on the weekend of April 22-24, 2005.
The theme this year was "In Christ there is no East or West". Under the direction of Mr. Wayne Cornwall, organist and choir director of St. Mary's, Walkerville, we discovered how our rich tradition of music in Anglican worship can be enhanced using new and exciting contemporary hymns and music.
Wayne was helped by other musicians using various instruments and up-beat rhythms.
Our dinner speaker was Ms. Karen Amlin who has been very involved with new and important youth ministry throughout our diocese.












Family Conference, "Good News People"

Sarnia April 23, 24 and 25, 2004

It was an exciting and dynamic conference and those who attended
They received much to take back to their churches to build and strengthen them.
The Conference consisted of the following event:

1. It was a Family Conference, for all men, women and youth. This conference was for any whom wish
to attend and have a real interest in seeing Their Church Survive.





2. Our guest speaker and facilitator was Canon Harold Percy. Canon Percy has authored three books, "Following Jesus First Steps on the Way", "Good News People" and "Your Church Can Thrive". He taught around our conference theme, "Good News People"

3. Ladies Program. Two power packed ladies, Rev. Grace Coleman-Anthony and Mrs. Cathy Salt conducted a program with music, skits, study, teaching and prayer just for women.

4. Rev. Robert Roe, Youth Pastor at Trinity Anglican Church Sarnia, lead a youth Program. It is known as EQUIP 2004 and will help students develop a strategy for sharing God's love with their friends. EQUIP means Equipping You In Peer Ministry. Get Equipped with drama, games, videos, cutting edge worship with a live band, teaching and lots more. For more info on the Equip Conference contact Rev. Robert Roe at [email protected].












NEW CHARTER ISSUED TO ALL SAINTS', WATERLOO - NOVEMBER 15, 2003

On Saturday, November 15th, the Huron Diocesan Executive Council of the BAC met at All Saints', Waterloo. At that time, the council presented All Saints' with its BAC Charter. It was a real privilege to present a new charter to a BAC chapter in the diocese. The charter was presented to John Collings and Barry Ferguson by Jake Bates, President of the Diocesan BAC Executive Council. The presentation was done during the service conducted by The Rev'd Canon Robins Lyons, rector of All Saints', and The Rev'd Dennis Cluley, chaplain of the Diocesan BAC. All Saints' members had met for their regular breakfast and meeting prior to the service and stayed after the service to attend the Executive Council meeting. The accompanying picture shows the All Saints' Chapter and the Diocesan Executive Council at the front of All Saints' Church, Waterloo.
Any parish wishing to establish a chapter of the BAC or revive an existing charter please contact the secretary, Francis Richardson, at 519-538-5998 or

[email protected]

The BAC web site can be viewed at www.bac.diohuron.org